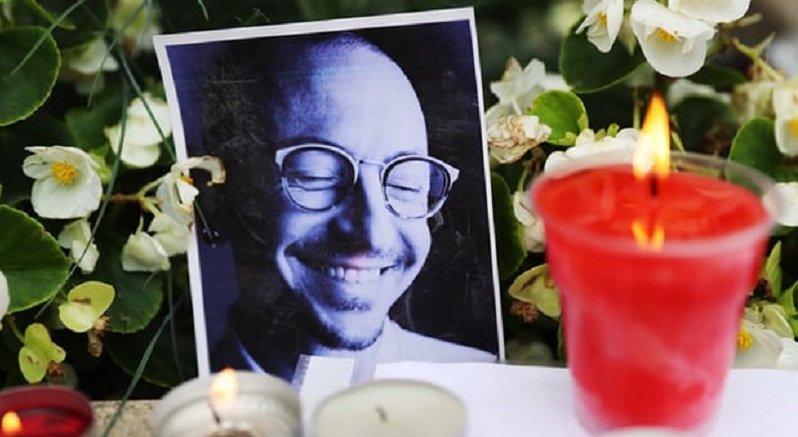 After the tragic death of the lead singer of Linkin Park in Los Angeles, the members of the band have set up a tribute website for the late musician to help raise suicide awareness among people and also provide help to those who might get such ideas.
Chester Bennington, 41, committed suicide at his home on Thursday morning by hanging himself, leaving behind a wife and six children. Major depression has been linked as the cause of his decision to commit suicide.
Linkin Park's official facebook page also posted a message in the wake of Bennington's death. It reads: "Our hearts are broken. The shock waves of grief and denial are still sweeping through our family as we come to grips with what has happened.
"You touched so many lives, maybe even more than you realized. In the past few days, we've seen an outpouring of love and support, both public and private, from around the world. Talinda and the family appreciate it, and want the world to know that you were the best husband, son, and father; the family will never be whole without you.
"Talking with you about the years ahead together, your excitement was infectious. Your absence leaves a void that can never be filled – a boisterous, funny, ambitious, creative, kind, generous voice in the room is missing. We're trying to remind ourselves that the demons who took you away from us were always part of the deal. After all, it was the way you sang about those demons that made everyone fall in love with you in the first place. You fearlessly put them on display, and in doing so, brought us together and taught us to be more human. You had the biggest heart, and managed to wear it on your sleeve.
"Our love for making and performing music is inextinguishable. While we don't know what path our future may take, we know that each of our lives was made better by you. Thank you for that gift. We love you, and miss you so much."
The page, chester.linkinpark.com, has been setup that contains a list of contact numbers and sites that can be contacted in such emergency leading to suicidal attempts. It also states 'in case you or someone you know needs support, here are some resources" and prominently features #ripchester and condolences posted by fans from every part of world.
The death of Chester Bennington was a blow to his millions of fans around the world as well as to many celebrities who considered Bennington a very close friend. The band was on tour in the North America, which was cancelled after Bennington's sudden death.
Linkin Park has been nominated for Grammy awards many times. The band's first album "Hybrid Theory" sold more than million copies making it a number one album in the hip hop rock genre.
The band recently recorded an episode of Carpool Karaoke, which was to go on air this October, with Ken Jeong as a guest star.