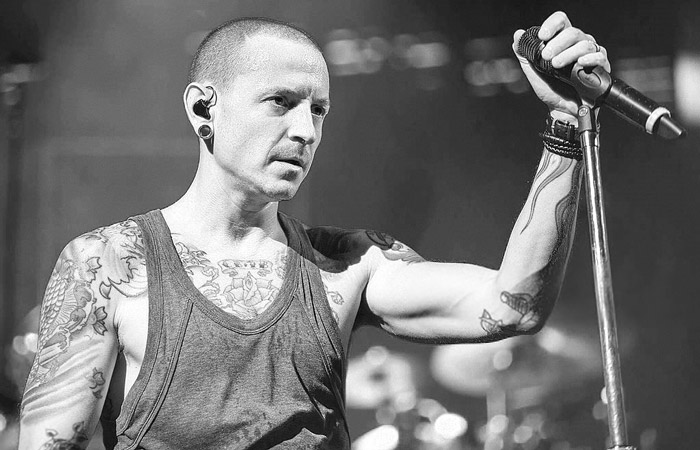 Chester Bennignton, the lead singer of one of the most celebrated band in the rock world, Linkin Park, is no more as the rock star allegedly took his own life by hanging himself.
His body was discovered at 9 am Thursday at the Palos Verdes Estates in Los Angeles.
Chester, 41, was the lead singer of Linkin Park. He joined the band in 1999 giving two successful albums called "The Hybrid Theory" and "Meteora". Overall he made seven albums with the band and was currently on a tour for his latest album.
Bennington's best friend Chris Cornell also committed suicide few months back. He performed on his funeral to pay tribute to his best friend.
According to some reports, Chester also suffered from drug abuse and had alcohol addiction.
Linkin Park's Mike Shinoda also took to twitter to express his shock. Other names from the industry such as Rihanna, Nikki Sixx also termed Chester's death as an irreparable loss to the music industry.
Shocked and heartbroken, but it's true. An official statement will come out as soon as we have one.

— Mike Shinoda (@mikeshinoda) July 20, 2017
The band had been on their One More Light world tour. Their next performance was to be held at the Xfinity Center on July 27 in Mansfield, Massachusetts.
Chester's fans have been in shock after hearing about their favorite singer's death and took to twitter and Instagram to express themselves by posting pictures of Chester and post messages expressing their love for the departed soul.
Depression is hard to understand. But if it can kill Robin Williams, Chris Cornell and Chester Bennington I'd say it's pretty damn real.

— George Shrouder (@GshroudOCTW) July 20, 2017
can't even fathom the news about Chester Bennington. going to have LP on repeat all day. Rest In Peace.

— michael (@Michael5SOS) July 20, 2017
Bennington is survived by his wife Talinda Ann Bentley and six children, Jaime, Isaiah, Draven, Tyler Lee and twins Lily and Lila.
However, few hours after Chester's death, some trolls hacked into his wife's twitter account and published 7 tweets each alleging that Talinda married Chester "only for money" and that she was responsible for his death.
@TwitterSupport Singer Chester Bennington died 2day n someone is continuing to hack his wife Talinda's account ..pls review asap thnx, Brian pic.twitter.com/sriUxKyJYR

— Brian Watt (@RealBrianWatt) July 21, 2017
Talinda's account has since been restored and the hacker's malicious tweets have been deleted.
On the other hand, Korn guitarist Brian "Head" Welch is facing backlash after calling Chester's reported suicide as "cowardly act".
Welch wrote on his facebook account: "Honestly, Chester's an old friend who we've hung with many times, and I have friends who are extremely close to him, but this is truly pissing me off! How can these guys send this message to their kids and fans?! I'm sick of this suicide shit! I've battled depression/mental illness, and I'm trying to be sempethetic, but it's hard when you're pissed! Enough is enough! Giving up on your kids, fans, and life is the cowardly way out!!! [sic]"