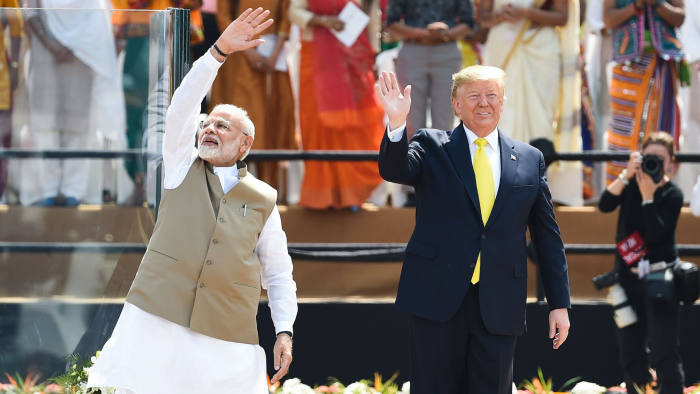 The last few days saw India pulling out all the stops for President Trump's first official visit to the country. High on optics and bollywoodesque fanfare, the trip despite serving as a vital political boost to both leaders remained shy of any concrete agreements. At least that is what the initial consensus amongst key analysts and media pundits seems to point towards in this visit's immediate aftermath.
This for instance was evident in the absence of a signed trade deal that would address the contentious issue of tariffs that has dogged US-India relations particularly under the Trump presidency. Similarly, while the signing of the $3bn arms deal comprising of US attack helicopters and other US military equipment was also formalized, it still pales in comparison to India's arms deals with Russia – a country that accounts for more than half of India's defense imports worth $15bn just in the last three years. Thus, considering the timing of Mr. Trump's Presidential visit within the context of the looming US elections, as well as the political fallout being faced by PM Modi following his violent crackdown in Indian Occupied Kashmir and the controversial Citizenship Amendment Act, it is perhaps unrealistic to compare the strategic significance of this visit with other key US presidential visits from the past. Such as for instance, the landmark civil nuclear agreement that was signed when President George W. Bush had visited PM Manmohan Singh in Delhi in 2006.
Nevertheless, considering the trajectory of Indo-US ties since the signing of the 2006 nuclear deal, both countries' strategic interests have converged on several key issues. The most salient of which remains their need to contain a rising China which in addition to its growing economic influence has increasingly come to challenge both the US and India's ability to project power within South and South-East Asia. President Trump's references to the Indo-Pacific and the 'quad' during this visit stand as a clear case in point. So does his mentioning of the need to have a secure 5G wireless network, a clear reference to the US's misgivings regarding the international role and overarching influence of Chinese tech giant, Huawei.
Yet, while the indirect references to China, however veiled were still apparent, there was a conspicuous silence on key things Russia. For example, questions over whether India would face US sanctions over its $5.5bn deal with Russia over five squadrons of the S-400 Air Defense System still remain unaddressed. Last month's statements from US State Department officials regarding whether India would face sanctions under the Countering America's Adversary's Through Sanctions Act (CAATSA) had cast even further ambiguity on the matter. The US position as it was reported then stands that while the US was unwilling to degrade India's defense capabilities, there was no blanket waiver offered to India for the S-400 purchase. China has already been sanctioned by the US for purchasing the S-400 under CAATSA with similar threats having been levied on NATO ally Turkey just last year.
If this issue of sanctions or a waiver had been discussed between PM Modi and President Trump in the last few days, it was not made public. In fact, according to recent reports, India in walking a diplomatic tightrope between the US and Russia seems to have instead delayed the procurement of its five S-400 missile batteries by up to another year. Whereas, earlier reports had indicated that India would take delivery of the S-400 System by October this year, more recent developments have suggested that deliveries of this system are expected to be made instead by the end of 2021. Based on this, it is likely that India may be biding some time for a possible change of heart in the US while ensuring it does not antagonize its long-standing relationship with Russia. Similarly, Russia too may have agreed to delay the delivery in order to ensure that its decades old and highly lucrative inroads within India's military industrial complex remain intact. Especially at a time when India by flexing its economic muscles and amid a military modernization spree stands as one of the most lucrative markets for defense exporters across the world.
Based on these developments, while President Trump may have surreptitiously avoided bringing up issues directly pertaining to Russia, there is no denying that there is considerable impetus in Washington towards gaining a larger slice of India's military-industrial pie. Hence, the inroads being made by the likes of Boeing and Lockheed Martin are likely to serve as important stepping stones for not only more lucrative deals and technology transfer agreements in the near future, but also for developing a robust strategic alliance centered on the quad framework. Hence, whereas both India and the US have embarked on this strategic partnership particularly in view of China's expanding influence in the region, the implications of this move on Russian interests both in India and as well as the wider region may demand a lot more serious attention than what appears to have been given at the present. Especially considering how India's historic penchant for preferring a non-aligned foreign policy runs counter to the US's more hands-on and involved approach to international relations.