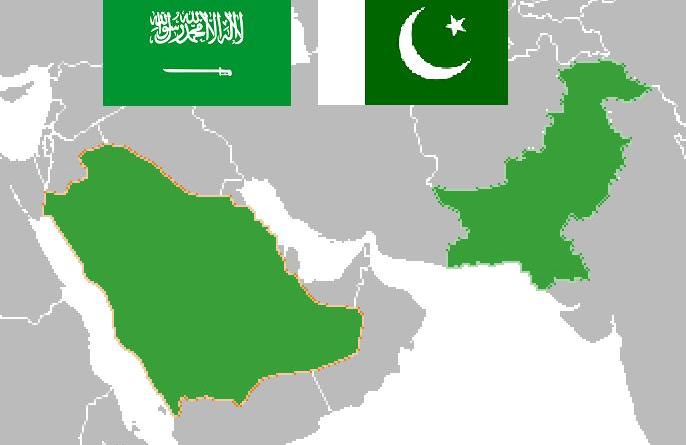 Since the emergence of Pakistan as an independent state, Saudi Arabia has been an all-weather friend of Pakistan. Loaves and fish brought both states further closer, as Saudi Arabian human capital and Pakistan's economic needs were interdependent. However, full swing in bilateral relations was noticed during the 1980's when the Soviet incursion in Afghanistan opened new avenues for cooperation.
Following the Baghdad Pact, bilateral relations witnessed a short epoch of strain. Saudi Arabia started warming relations with India and in 1954, king of the state, visited India for two weeks. Nonetheless, that didn't much affect the bilateral cooperation between Islamabad and Riyadh, albeit slowed down the pace of progression.
Saudi Arabia hasn't neglected the role of Pakistan in Persian Gulf security. On the other hand, Pakistan has taken it as blessing in disguise and continuously offers itself for that role.
Recently, after another short span of sprain, new horizons of bilateral cooperation are emerging. Prime Minister Imran Khan called on King Salman Bin Abdel Aziz on 19 September, 2018. On 23 October, Prime Minister  again left for  Saudi Arabia to attend an investment conference dubbed as, "Davos in the Desert". This was Khan's second visit to Saudi Arabia in just over a month. This time, he was successful in getting $3 billion dollars to address his country's balance-of-payment issue and another $3 billion loan for oil imports.
This significant progression prove interdependence of both states once again. Saudi Arabia has to collaborate with Pakistan as a nuclear deterrent partner of the kingdom. On the other hand, Pakistan needs significant financial assistance to alleviate the debt crisis.
Nevertheless, Pakistan has to keep a tactful balance between its bilateral relations with both Saudi Arabia and Iran. After all, Iran is a geo-strategic partner of Pakistan, ever and a neighbor too. By eschewing its Fabian policy, Pakistan can expand relations with both states.