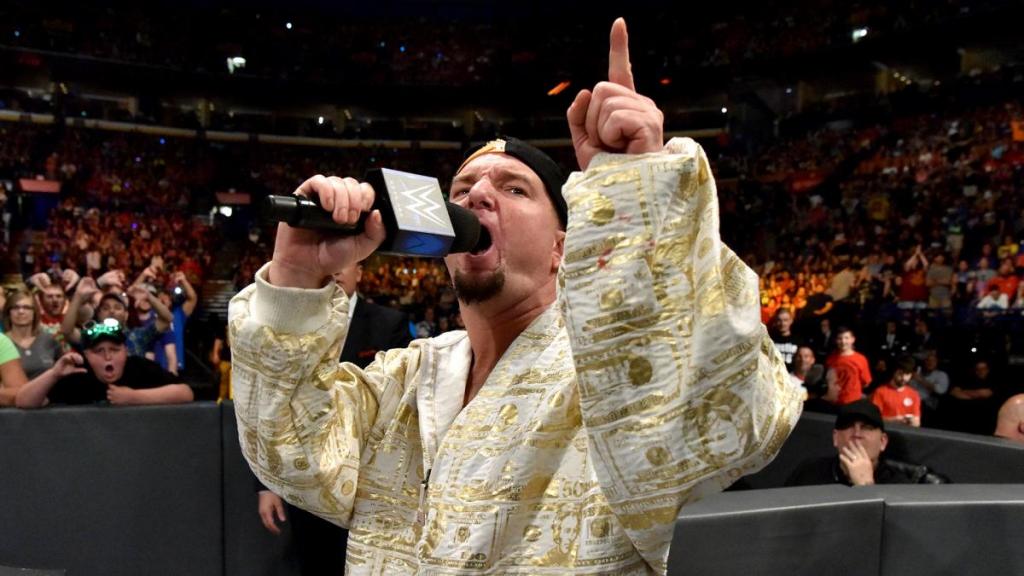 This Sunday there was a controversy during WWE's Money in the Bank pay per view when James Ellsworth climbed up the ladder and unlocked the briefcase during women's MITB match.
It was the first ever women's MITB  match and everyone was expecting a woman to climb up the ladder and become the first Miss Money in the Bank. However, to everyone's shock, Ellsworth interfered by dropping Becky Lynch off of the ladder and climbed himself to get the MITB briefcase.
The most noticeable thing was fans reaction when they saw Ellsworth climbing the ladder. Everyone got up from their seats and started chanting "Yes, Yes!".
However, Ellsworth gave the briefcase to his crush Carmella instead and declared her the first ever Miss Money in the Bank.
Creative Suggestion
What if instead of running with Carmella being Miss Money in the Bank or holding a rematch, WWE would let James Ellsworth be Mr/Miss Money in the Bank? (Hell, they could declare him Miss MITB as a punishment for his involvement)
This controversial decision would certainly create a huge buzz among the fans.
James Ellsworth can halfheartedly accept the decision and give Carmella the impression that after becoming WWE Womens Champion, he would drop the belt to her.
It would sure as hell be a lot interesting to see James Ellsworth reign as Women's Champion.
Then as time progresses, Ellsworth can have second thoughts and even defeat Carmella in their match for the championship.
Later he can drop the belt to any of the woman the creative wants.
Well, it's certainly is a wild wish, but one that has the potential to create a lot of buzz. Smack Down Live and RAW both are seeing a huge drop in their ratings, and doing something out of the box as this can definitely help improve it.