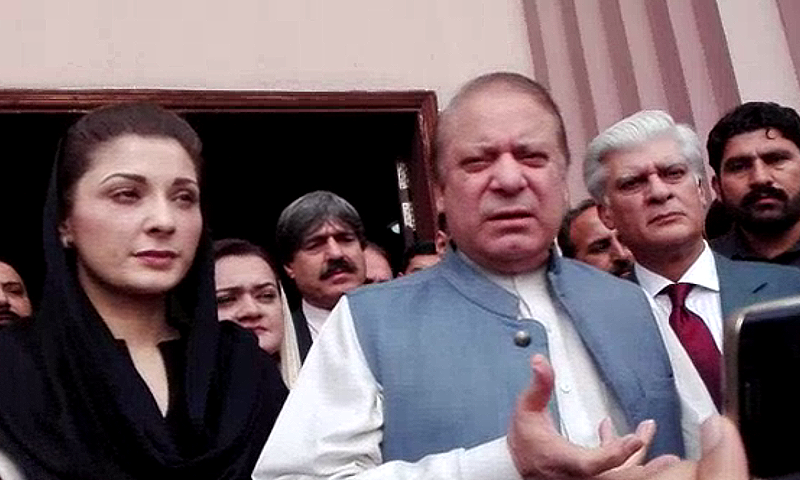 The historic verdict in Avenfield reference is out. Justice Muhammad Bashir of the accountability court sentenced former Prime Minister Nawaz Sharif to 10 years and his daughter Maryam Nawaz Sharif to seven years imprisonment in the Avenfield reference case.
Maram Nawaz's husband Captain (R) Safdar was given one year imprisonment for his part in the Avenfield reference case.
In addition to imprisonment, Nawaz Sharif was fined 8 million pounds and Maryam Nawaz 2 million pounds. In addition to fine, the Avenfield flats were ordered to be confiscated.
The fine is to be in addition to the confiscation of the Avenfield apartments.
In his verdict, Justice Muhammad Bashir said the defendants were unable to give money trail for their apartments and that it has been proven that Sharif family owned Avenfield apartments since 1993.
On Wednesday, Nawaz Sharif requested accountability court to delay its verdict for some time. "I have appeared 100 times before the court and I want to be present inside the court when the verdict is given", Nawaz Sharif said while reading a pre-written statement.
The court however did not entertain Sharif's request.
Earlier the verdict was delayed many times, from 12:30 to 02:30 and then four more times which eventually was announced on 04:00.
Chairman PTI Imran Khan was due to address a press conference after the verdict. However, due to delay he his cancelled press-conference and went to his attend his pre-scheduled rally at Dir. During Dir rally, Khan severely lambasted Nawaz Sharif and his party. "A historic verdict is on its way today that will determine the future of Pakistan", he said.