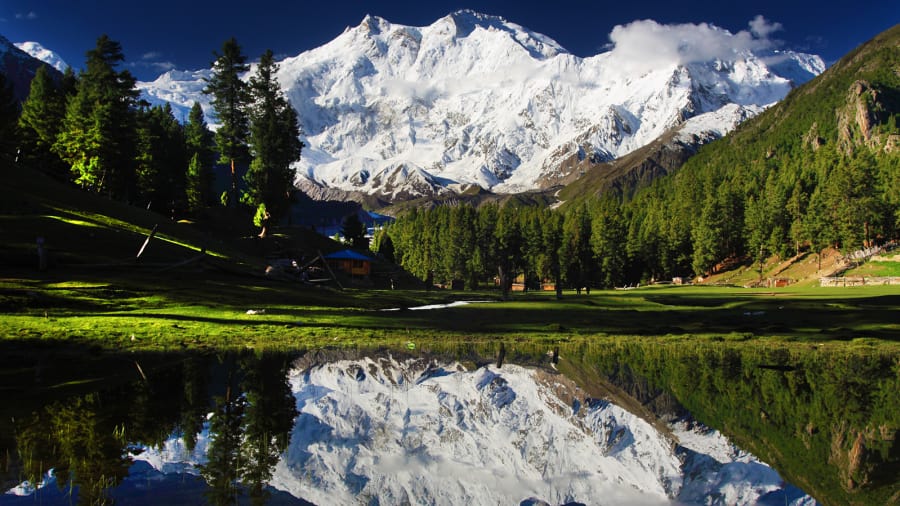 The tourism of Pakistan has really flourished in the past few years. Different tourists from all over the world come to see the different landscapes and infrastructure of this country.
One such example is of Eva Zu Beck. She is a famous travel vlogger hailing from London. She recently visited Pakistan for tourism and shared her views through different videos. One of her videos, which came out this month, went viral over the internet with over two million views.
In the video is called "Why Pakistan can become the No 1 travel/ tourism destination in the world" she lists all the significant reasons and places that touched her heart during the journey and made her believe that our country deserves a top place amongst the most visited tourism countries of the World.
Before sharing this video, she mentions in another one that earlier when she had not visited Pakistan, her image of the country was absolutely poles apart from the one that existed in real. She states that Western media has painted a picture of Pakistan as a deserted country; that there would be sand all over the place, animals roaming around here and there like crazy, dusty streets; in short, not much going on and signs of oppression around every corner.
Now for the reasons in her video, she lists the following explanations:
The mountains of Pakistan
Pakistan has more than a hundred mountain peaks within its vicinity including some of the highest ones in the world. The well-known mountain ranges include the Hindu Kush, Karakoram and Himalayan. The other distinguished mountains that Pakistan is a home to include K2 (Second highest mountain range in the world), Nanga Parbat (9th highest), Raka Poshi, Tirich Mir and so many more.
Eva calls these ranges as nature's biggest assets. She also mentions about the Hingol National Park located in Lasbela, Balochistan. This park which has been established since 1988, supports different species of mammals, amphibians, reptiles, birds, plants. She asks the question that why this park can't become the next Grand Canyon?
Ski resorts
Many of you may not be aware of this but Pakistan does have ski resorts. In high altitude places like Malam Jabba, Skardu, Astore, Hunza, Deosai and Naltar different ski resorts have been created for tourist and locals for enjoyment. National and International level skiing competitions are also held in these areas.
Beaches
The Arabian Sea touches the coastline of provinces Balochistan and Sindh and generate different beaches. The prominent ones of Sindh include the Clifton beach and Hawke's Bay; Balochistan includes Astora Island, Manora Beach, Gwadar beach, Ormara. Eva says that they are a prime beach destination for all seasons.
Culture & Arts
Eva states that the culture and arts of Pakistan is unlike any other country. The handicrafts, craftsman ship have no match for other countries. These include pottery, ceramic plates, brass plates, handmade block printed ajrak, wood carvings, marble carvings, khusa and so many more. She says that this could be Pakistan's top export. Imagine tourists coming and taking bits of Pakistan with them.
Religious tourism
Pakistan has such a rich religious lifestyle and the religious tourism can easily be developed in no time. Pakistan has so many beautiful and historic mosques with an incredible Islamic heritage. The Sufi trail also arises from Sindh. Not only Islamic buildings exist, but Pakistan is also the birth place of Sikhism and the travels of Guru Nanak. Some of the most important Hindu sites are located in this country as well as some places of Buddhist culture. Due to all these sites, Pakistan can become a prime tourist site for all sight seers interested in history, culture and religion.
Food
Yes! Not to mention the delicious and tasty cuisines of the country. Pakistan can become a primary site for the foodie tourism too. Some of the mouth-watering dishes founded by Pakistanis include Biryani, Pulao, Lassi, Haleem, Hareesa, Halwa Puri, Kebab, Naan, Raita and so many more. This page will not be enough to mention all the amazing dishes that our country is famous for. Foodies will know!
Weather / Climate
The climate of Pakistan is like none other. If you are living in the West you would know because people desire Pakistan for its 4 seasons. Pakistan enjoys summers, winters, autumns, springs throughout the years as the weathers keep changing.
Greenery and Nature
Eva says her favourite thing about Pakistan particularly Islamabad was its greenery. She was very surprised as it was exactly opposite of the image she had in mind. Pakistan is extremely lush and green with trees all over the place. Some places are lined by flowers and different patterns are made from these florets like clocks or buckets etc. In addition Pakistan also keeps on holding green campaigns of planting trees to make the country even more nature loving.
No pollution
More trees = No pollution
Yes. Due to the continuous planting of trees throughout the country, Pakistan has really less pollution as compared to the Western countries. If in doubt, ask Eva!
People of Pakistan
Last but not the least reason, the people of Pakistan. Pakistanis are extremely kind hearted, friendly and helping people. Eva says she felt this when she went to the shops to buy daily house hold stuff as well as when she met them while travelling.
She also says that she has had a meeting with the Prime Minister of Pakistan, Imran Khan and has discussed about the future of Pakistan tourism. If you haven't already watched her video, be sure to go check it out. She calls our country, her country by her last statement as "This is my Pakistan."
You are sure to get tears in your eyes while watching it because we, Pakistanis do not value it like foreigners do. Only Pakistanis living out of the country feel for it as they are away from their homeland. So guys, let's work together to really make Pakistan the top tourism destination in the world.