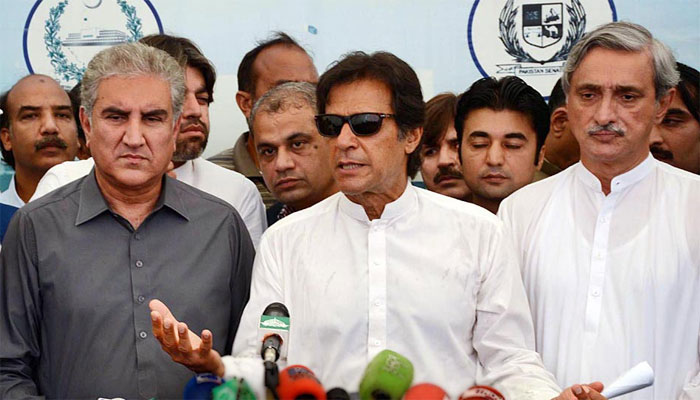 PTI stalwarts Shah Mehmood Qureshi and Jahangir Tareen openly exchanged heated words on Friday over the distribution of party tickets. "How can I be competing with someone who is not even in the game", Qureshi jibed at Tareen. Tareen replied back saying, "Qureshi better address the grievances of the people in his constituency before airing differences live on-air."
The differences between Qureshi and Tareen, two heavyweights of PTI, are not new. It is a power struggle. Qureshi represents one school of thought in the party while Tareen another. Both want to infiltrate the party with their respective loyalists so they can solidify their position and influence in the party.
While theoretically, differences of opinion are part and parcel of democracy and lead to healthy competition, highlight flaws in system so they can be fixed, and promote meritocracy overall; however in reality, it is bad news for Tehreek-e-Insaf.
It is bad news because each group will try its level best to undermine the other in the eyes of Imran Khan and party members, so that they can leverage their own benefits. Even if it meant making sure the candidates supported by the opposing group lost their respective elections, they will not hesitate to do so, as long as it serves their purpose.
It will be personal victory for one group, but defeat for Imran Khan.
Now in such a crucial time, it is Imran Khan who has to show his leadership skills and make both Qureshi and Tareen not launder their dirty linen in public. He has to put an end to the open division in his ranks. For in the re-phrased words of Abraham Lincoln, "a divided PTI against itself, can not stand."