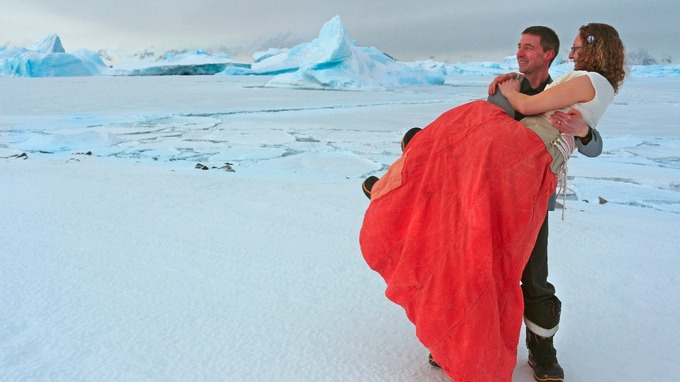 No matter how cold it is, below freezing or not, love sees no boundaries and when two such in love people decide to become one, Antarctica can look like a perfect place on earth to get married.
Two British polar guides made history on being the first couple to officially marry on the British Antarctic Territory. They tied the knot at the Rothera Research Centre on Adelaide Island, west of the Antarctic Peninsula, where the couple conduct their research.
And, it wasn't just a simple wedding, Julie Baum and Tom Sylvester celebrated their wedding for two days over the weekend with their 20 fellow researchers at below zero temperature.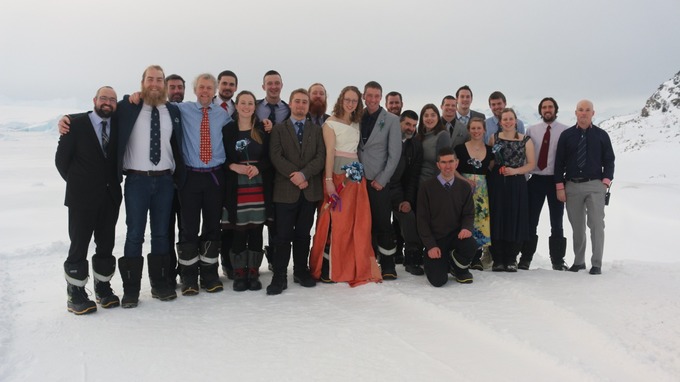 Julie made her own wedding dress with her skirt being made from an old orange tent piece. Tom on the other hand, made the brass wedding ring in the Rothera Research Center's welding shop.
Julie and Tom have known each other for ten years and have travelled together to different places for research. Being a big fan of snowy mountain and cold weather eventually they decided to marry in subzero temperature with a few of their colleagues.
"Antarctica is an incredibly beautiful place and we have made such great friends here", said Tom.
"We have always wanted to have a small personal wedding, but never imagined we'd be able to get married in one of the most remote places on Earth".
The wedding will be registered with the British Antarctic Territory Government, based in the Foreign & Commonwealth Office and will be valid in the UK.
Both Tom and Ms. Baum are experienced mountaineering instructors in the British Antarctic Survey and conduct deep-field science expeditions last year and have also worked as expedition leaders in countries around the world, including Nepal, Peru, Ecuador and Uzbekistan.