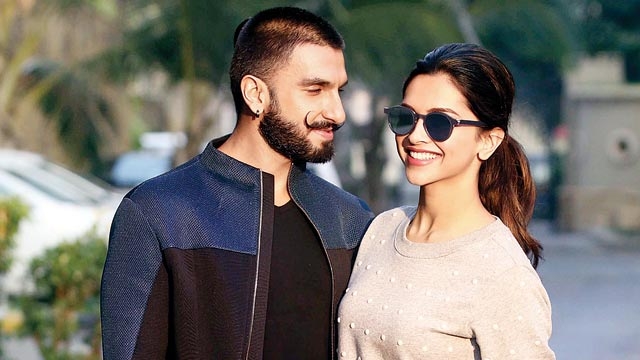 In defiance of being told not to meet and come upfront in public by Sanjay Leela Bhansali before his upcoming movie Padmavati's promotions since the everlasting tussle, the lovebirds Deepika Padukone and Ranveer Singh apparently came back together with a bang and were recently spotted on an airport coach. Ranveer clearly didn't want to be clicked and Deepika endorsed a calm and composed imperturbability.  She didn't look stunned but Ranveer definitely didn't want to publicize their togetherness it seemed!
They always appeared to be an ideal couple of B-town and their fans have been waiting with bated breath for them to get back together. Right from "Goliyon ki Rasleela- RamLeela", "Bajirao Mastani" to "Padmavati" now, they have been the best sight to watch both on-screen and off-screen.
However, their relationship comes off as an "on-off" kind for us. Padmavati movie alleged to have an on-screen romantic scene between Rani Padmavati (Deepika Padukone) and Alauddin Khilji (Ranveer Singh) against which there were many protests. Hence, Sanjay Leela Bhansali wanted this particular paradigmatic couple to stay apart in public even when Padmawati team did assure that there's no such scene in the movie.
Back in October 2016, Ranveer accepted that he wasn't in a committed relationship and there were rumors about the duo breaking up. While when Deepika was asked what she took away from those speculations, she said, "I don't, because there is nothing to 'take'.
"I have understood it (the speculations) well enough to know what I should absorb and what I shouldn't.
"After a point, one becomes completely immune to these things as you can only do things that are in your control.
"Certain things are a given when you are in this industry and I am sure there are certain advantages and disadvantages of being in this industry. This is one of the things one has to deal with, and that's totally fine.
"The ups, the positives, and the love we get are way too much for us to get bogged down by the speculations or the negativity."
Previously it was reported that they parted ways due to Deepika's increasing proximity with Hollywood actor, Van Diesel during filming xXx: Return of Xander Cage. Another reason being, Deepika was seen partying with her close friends when Ranveer was elsewhere having a wisdom tooth surgery. One more to add to the list was Ranveer's absence at an award show where Deepika was present.
Padmavati will be hitting the theaters on November 17th of this year.