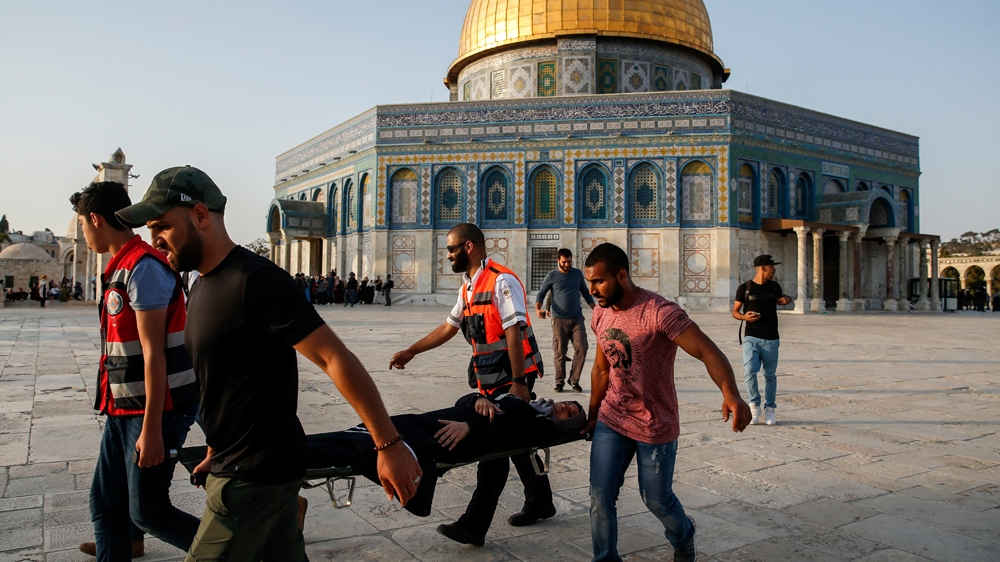 After a two-week protest and praying outside of the Al-Aqsa mosque, Israeli authorities yielded to the Muslim protesters and removed all controversial security devices installed at the entrance of the compound.
Israeli police had installed security cameras and metal detectors on the Muslim entrances of the compound leading to Al Aqsa after two Israeli policemen were killed by a Palestinian gunman on July 14th. The Israeli authorities also stated that anyone below the age of 50 was not allowed to offer Friday prayers in the mosque.
The move was severely criticized by Muslim religious and political leaders alike and they refused to pray inside the compound until the coercive security measures were taken back.
Thousands of Muslims worshiped on the streets outside Al Aqsa mosque in protest and clashed with Israeli police which resulted in the killing of at least six Palestinians, with as many injured.
Palestinians celebrated the decision of Israeli authorities to take back the controversial security measures. They danced and sang in front of the police personnel who removed cameras, metal detectors and steel barriers that were installed.
Palestinian President Mahmoud Abbas met Jerusalem Mufti, Mohammed Hussein, in Ramallah and called it a victory for Palestinians.
''We will be able to offer prayers inside the compound," said Abdel-Azeem Salhab, director of the Islamic Waqf Council which administers al-Aqsa Mosque compound.
"The Israeli occupation forces have been trying for decades to violate Al Aqsa Mosque compound. Now, you are living in the new era of victory. We totally appreciate the masses who have been gathering".
The protests have also been noted to have given the Palestinians living in the west wing of Jerusalem, which is occupied by Israel, a certain air of unity and hope. However, violent clashes broke out between Israeli police and Palestinians celebrating the removal of the controversial security devices.
Israeli police used stun grenades to disperse thousands of Muslims gathered to offer prayers inside the Al Aqsa mosque. The Palestinian Red Crescent said as many as 120 Palestinians were hurt as a result, including some by rubber bullets and beatings.
"Several people suffered broken bones", they said.