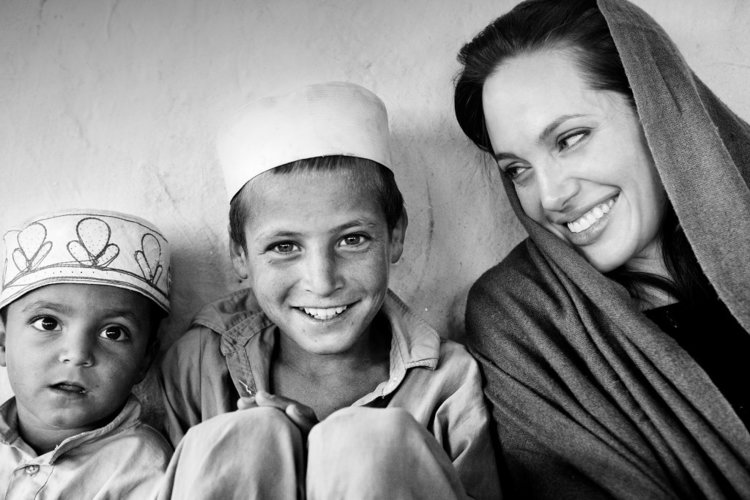 "Notes From My Travels" is based on the experiences of famous American actress, Angelina Jolie throughout her journeys. Out of love for humanity, the Jolie decides to join hands with 'United Nations High Commissioner for Refugees (UNHCR)' and visits many refugee camps of 3rd world countries.
Before the start of journey her husband, parents and brother show inconvenience and fear for her security. Her friends are worried for her safety as she was embarking on a journey to war zones to meet with war affectees in third-world countries. Despite all the opposition, she affirms to meet with helpless people in order to share their pain and agony.
She observes people of Cote D'Ivoire, the only place which Jolie visits in Africa. The thing that amazes her there was to see the markets selling ivory, gold and even diamonds on the dirty floors. She terms African people as strong and smart people. If they are given opportunity and resources, they would emerge as very strong, rich country, she believes.
"The strength of survival here is amazing to me.
"They don't complain. They don't even beg", she states.
Jolie is greeted with smiles mostly and the least number of stresses on her arrival at beautiful land of Sierra Leone, Freetown. She describes an immense beauty of the land filled with lakes and forest. The place she was staying there would at maximum considered a poor-man's residence by the social circle she belonged to back in her country. However, to the locals, the same place was nothing short of a huge palace where many of them would not even dream of living.
She decides to avoid wearing any valuable things not because of fear of theft but in order to look common. She notices that girls are educated and skilled in the refugee camps. She notices that babies born there have no toys and were lying on the floors.
Jolie approaches a child to greet but he starts screaming. His mother states that he got scared because of the color of her skin. Upon interrogation with refugee women, one of the young woman states that they were living in continuous fear with danger of girls being abducted and young boys to being sent into wars. "All we want is termination of war and to go to our home", she tells her.
On her return she feels that she cannot detach herself from those people and the places, that she visited. The boy on the dirty floor and the man in the amputee camp with cold eyes would all flash before her eyes, forever.
Angelina Jolie points out that being American, she is not developed with wider heart and open eyes to look at the diversity of other cultures. The world is more enchanting as it is amazingly filled with diversity which adds liveliness.
During her stay in Pakistan, she describes Pakistani culture as one of the decorated cultures. Buses are beautifully painted and she observes variety of colours in Pakistani dresses opposing her previously held faulty views and imagination. For Jolie, the Pakistani women with more covering themselves look more elegant and modest.
The book is worth reading for everybody especially for those who want to volunteer their selves for the well being of humanity. The incidents described are heart-wrenching and makes you feel humble and grateful for every relation and everything you are blessed with.