The returning officer for NA 247 Karachi has rejected the nomination papers of Fauzia Kasuri citing lake of information regarding her dual national status. The FIA had given a list of candidates having dual nationality to the  Election Commission of Pakistan (ECP) which contained the name of Ms. Kasuri as well.
Ms. Fauzia Kasuri however claims she renounced her US nationality on 22nd March, 2013. She shared a copy of certificate obtained from US Consulate Lahore that confirms her claim.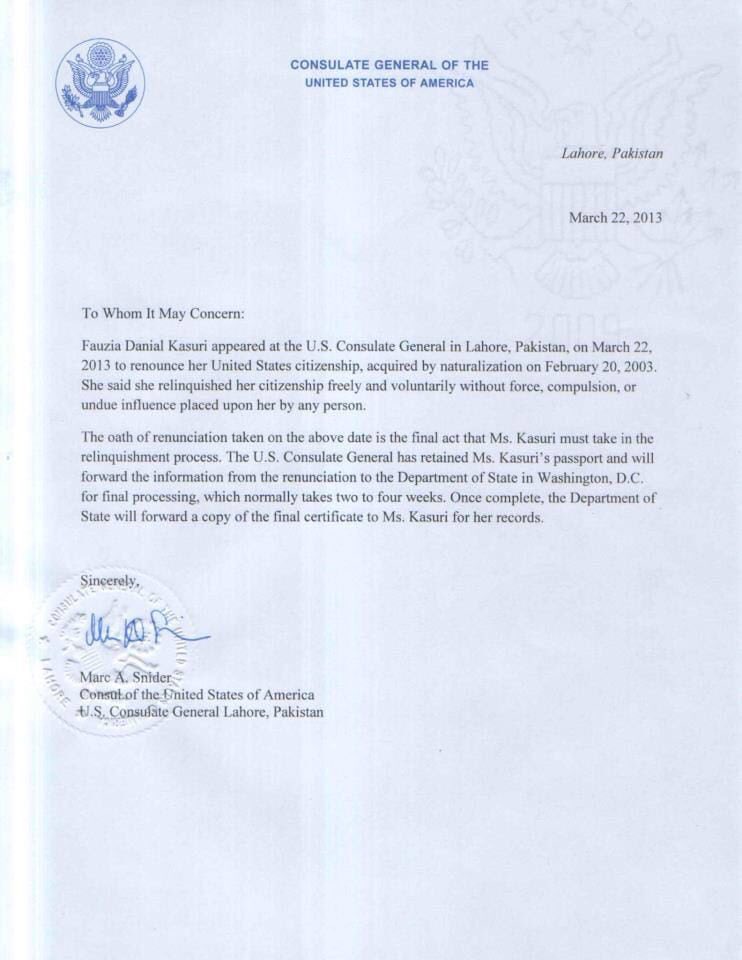 Earlier Ms. Kasuri appeared before returning officer and presented her documents regarding the relinquishment of her US nationality.
I just submitted the US citizenship renunciation certificate n required proof to the RO of NA 247 at the City Court in Khi. As stated by me earlier, I ceased to be a dual


national on Mar 22, 2013.

— Fauzia Kasuri (@FauziaKasuri) June 19, 2018
However, the returning officer has rejected her candidature for NA 247 citing not enough information regarding the renouncement of her US nationality.
Ms Kasuri recently joined Pak Sarzameen Party after developing differences with party leadership of her previous party, Tehreek-e-Insaf.