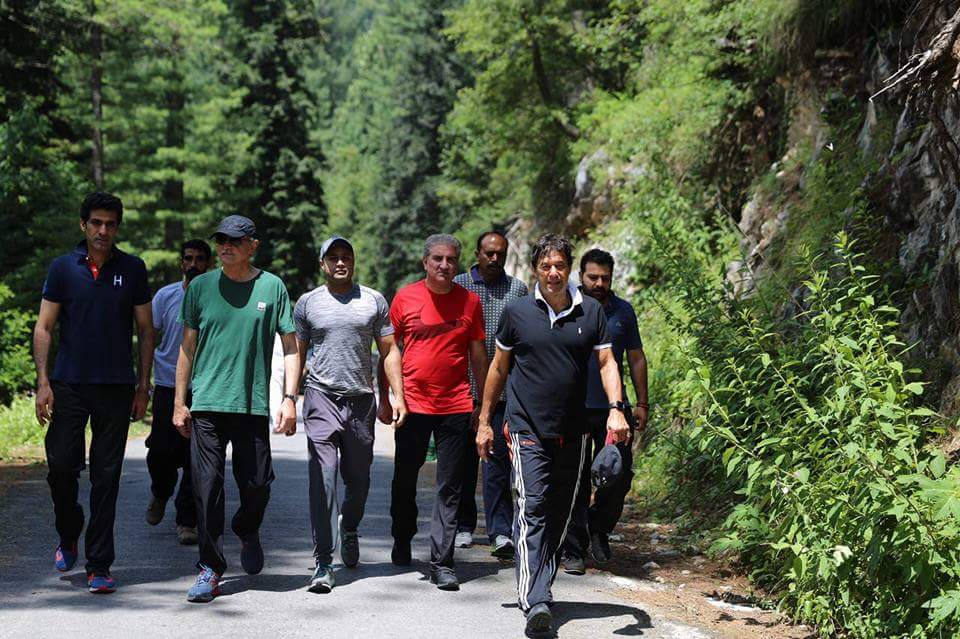 Winter is coming and the signs tell us it's going to be a long, cold, and ugly winter. Perhaps that is why, Imran Khan, the Jon Snow of Pakistan, is preparing hard for the up-coming tough winters of Pakistani politics. The king in the north seems all set to take the mighty iron throne in Islamabad.
He spends most of his time in the north, Nathia Gali, doing two things, planning and forming new strategic alliances and physically preparing for the wars to come. Not only that, as he is well known for his ability to prepare his team for upcoming battles, he makes sure to take his comrades with him for training. Even his deputy Shah Mehmood Qureshi and Jehangir Tareen could be seen on the steep roads of Nathia Gali walking behind their captain.
All those who were reluctant to join him before are now queuing in line to proclaim him the King in the North. Of course, they don't just see a king in the north, they see a future king of the seven kingdoms. The new protector of the realm!
On the other hands, the ruling House of Sharifs seems to be in doldrums. Their grip on power is loosening by the day. Although, they are still strong enough to mount a convincing counterattack, the groupings in the north, south, and south-east pose a considerable threat to their reign.
However, what separates House Sharifs from the rest is their uncanny ability to make strong alliances when they need it. They are known to always pay their debts and history tells us they have happily paid their debts manifold.
A case in point is how they were able to form a formidable alliance with House Frey aka Zardaris, House Grejoy aka the Achakzais, and the High Sparrow aka Maulana Fazl ur Rehman back in 2014 to counter the attack of Imran Khan and the Wildlings led by Dr. Tahir ul Qadri. All were rewarded heavily for their services with state ministries, governorship and a free reign in Sindh.
However, 2014 is long gone. Realities have changed. Winter is upon us all. Forming a 2014-like alliance will be difficult for Sharifs even with their best deal-making abilities. It is highly unlikely Zardari will enter into an alliance with Sharifs at this time. Instead, the House Freys of Pakistan will like to make its own run for the iron throne.
Moreover, as far as the High Sparrow and the Grejoys are concerned, they can only work as catalyst in forming strong alliances. They alone can not help Sharifs form a strong alliance that can counter the resurgent and ever more strong King in the North.
Sadly, all this development is bad news especially for Cersei Lannister of House Sharif who was being prepared to take the mantle of leadership from her father and become the queen. But, the Panama Leaks could not have come at a more bad time for her. Had the leaks occurred after 2018 elections, it would have been fine by her. She would have solidified her grip on the Iron Throne by then.
However, the little birds in King's Landing are chirping and things do not look good for the queen-to-be. Her fate heavily depends on the decision of the five Septons at the Great Sept of Baelor somewhere in August. Even if she somehow survives the trial, it would still be quite hard for her if any one of her family member is implicated in the Panama case. She will no-doubt face a tough resistance in her bid for the Iron Throne.
As far as Imran Khan is concerned, he should always remember that even though alliances are necessary to win wars, there are people like Petyr baelish aka Little Finger, who would ditch you at the most opportune time. Alliance with such people can harm you more than your open enemies. Those who strike you in the back are always more dangerous.
The key thing would be vigilance. In this great game of thrones, if you are to form so many alliances, you have to have eyes in the back too. You can't get too careless, when you're surrounded by so many ambitious people. Winter is here, you can't go around not knowing things anymore. Always remember that when you play the game of thrones, you win or you die.