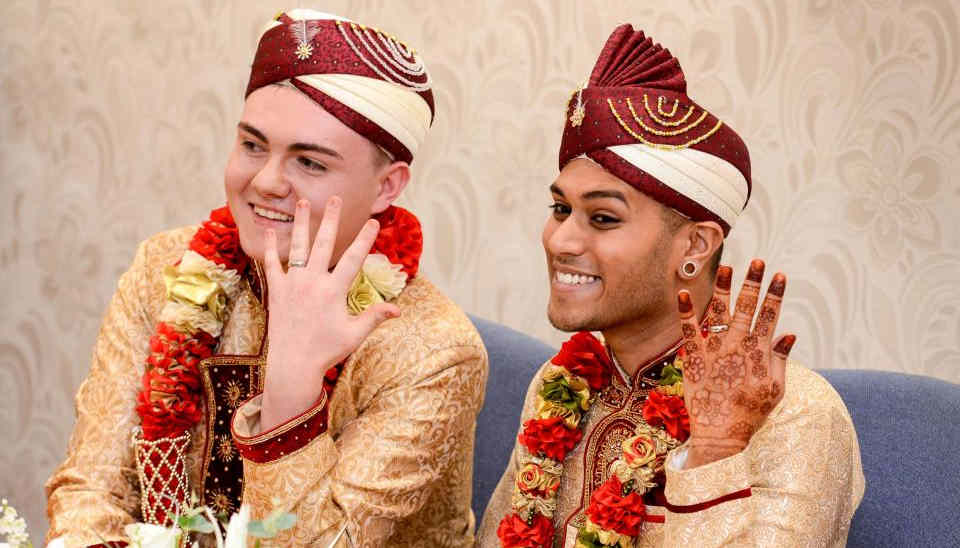 Two men in UK made history by becoming the first gay Muslim couple of the country. Jahed Chaudhry, 24, married Sean Rogan, 19, in a closed event in West Midlands.
The two met while Jahed was out in a park trying to kill himself because of the criticism and bullying he was facing due to his sexuality. Sean found him stranded and comforted him. Two years later they both said their vows and married in a typical Bangladeshi attire with only their families present.
Jahed's open confession about his sexuality did not go well with his family and relatives. Most of his relatives though stayed quiet but cut all ties with his family. Some however, gave them death threats. He was even assaulted by fellow Muslims on the street where he lived and the word "fag" was sprayed on his front door.
Jahed says, after being bullied, banned from his local mosque and treated like the "black sheep" of his Bangladeshi community, he tried to change his sexuality and also went on religious pilgrimages to Saudi Arabia and Bangladesh but it didn't work. All this pressure however, made him suicidal and he tried taking his own life.
The cultural stigma associated with homophobia is often times the reason for its most harsh form of opposition. The fear of what people would think is usually greater than the fear of Islamic injunctions against homophobia.
Many would point finger towards Jahed and say what he did was "haram", but after reading his story and getting to know his past, the blame can be shared on both sides. The reason people like Jahed tend to take such radical decision is mostly due to community's hateful behavior towards them.