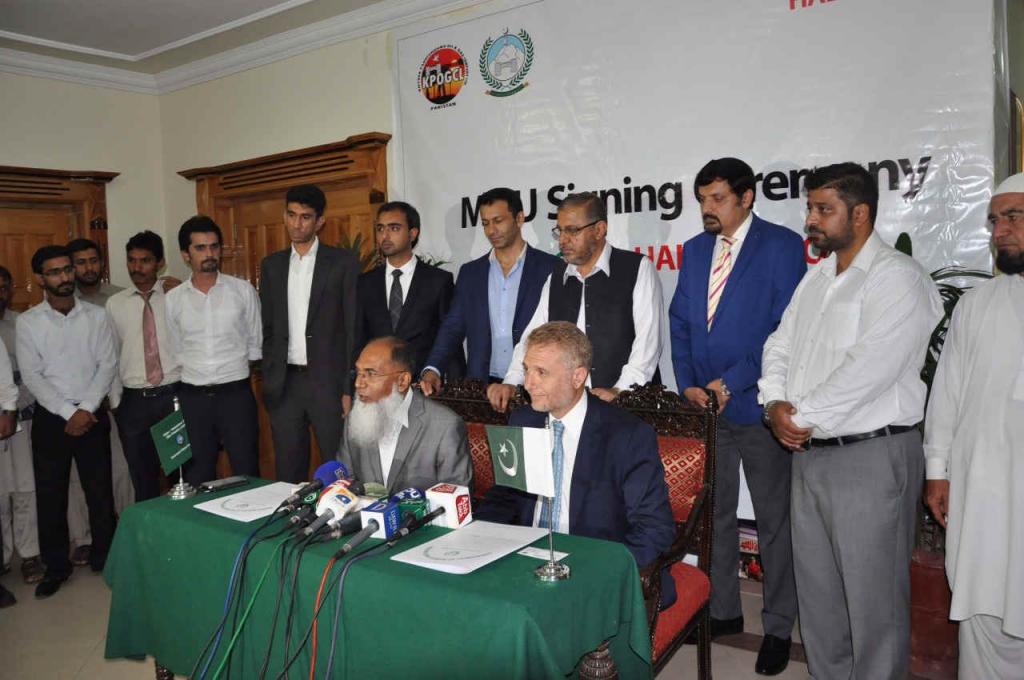 KP's rapidly growing company, Khyber Pakhtunkhwa Oil and Gas Company Limited (KPOGCL), signed a memorandum of understanding (MOU) with a leading US oil and gas company Halliburton on Wednesday, 23rd August 2017, in Islamabad.
Halliburton will be providing latest software technology and assist KPOGCL with its usage for exploration and production of oil and gas. The organization will also give training to employees of KPOGCL.
The employees will also be trained in using the latest technology and software in order to bring them at par with international standards.
The MOU was signed between Muhammad Raziuddin, CEO KPOGCL, and Senior Vice President Middle East and North Africa for Halliburton, Ahmed Kenawi, in the presence of Secretary Energy and Power, Engr Muhammad Naeem Khan.
Mr. Naeem called it a positive sign and a step forward that well known foreign oil and gas companies are taking interest in Pakistani oil and gas industry.
CEO KPOGCL Raziuddin termed it a golden opportunity and said it will bring industrialization in the province with fertilizer plants and refineries setting up which will help create more jobs and thus boost the economy of the province as well as the country.
"Halliburton is one of the world's biggest services companies and its come back to Pakistan, especially to Khyber Pakhtunkhwa, is a sign of investors' increased interest and confidence in the country's improving security and business environment.
"We are targeting to achieve crude oil production of two million barrels per day by 2025 which is currently 51,000 barrels a day (53pc of country's total oil production) which was only 30,000 barrels four-year back", said Raziuddin.
The CEO also added "liquefied petroleum gas (LPG) production in the province was only 10 tons/day and will be raised to 550 tons/day by 2025. We are targeting to increase its production to 3,000 tons a day,"
Mr kenawi encouraged and expressed positive feelings about the MOU calling it an opportunity to train the upcoming oil and gas professionals to help them become one of the best in the field.
Out of 28 rigs in Pakistan, 11 are in KP and with the recoverable reserves of 16 trillion cubic feet of natural gas and more than 1.1 billion barrels of oil, it is obvious to say KP has a rich oil and gas future which can help achieve a more successful and developed future.